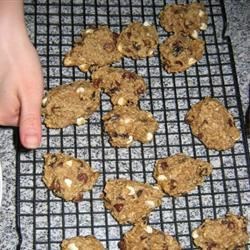 INGREDIENTS
* 1 cup butter
* 3/4 cup packed brown sugar
* 1/4 cup white sugar
* 1 teaspoon vanilla extract
* 1 1/2 cups all-purpose flour
* 1/2 teaspoon salt
* 1 teaspoon baking soda
* 1/4 cup boiling water
* 2 cups quick cooking oats
* 1/2 cup raisins (optional)
* 1 1/2 cups semisweet chocolate chips
DIRECTIONS
1. Beat butter or margarine, sugars and vanilla until light and fluffy. Add flour and salt, mix well.
2. Dissolve baking soda in boiling water and add to mixture. Stir in rolled oats, raisins and chocolate chips.
3. Drop by teaspoonful onto ungreased cookie sheet. Bake at 350 degrees F (175 degrees C) for 10-12 minutes. Don't over cook. (There are no eggs in this recipe, I didn't forget to type it down).
This is my favorite cookie recipe and I realized I should share it w/ all my homies. Last night I added walnuts and dried cranberries to the mix and it turned out highly delicious. Shredded coconut works really well too!